Must-Have Items When Your Baby Starts on Solid Foods
Starting your baby on solid foods in one of the exciting milestones every parent is looking forward to. After months of just feeding on milk, your little one is now ready to try different flavours and textures of solid food.
As parents, it is also exciting to let your baby try on different foods and see how they react to the new flavour they experience. Mealtime would also be a lot different now since you'll have a new family member to welcome into the dining table.
If your baby is already ready for solid foods, you need to shop for supplies and gears needed for feeding. Aside from baby food itself, there are still other supplies you need to make your baby's mealtime convenient and enjoyable for your little one as well. Here are the must-have items you need when you're planning to start your little one on solid foods.
High Chair
When your baby can sit up unassisted, he or she is ready to get started on solid foods. A baby high chair makes feeding time convenient since it is specifically designed to keep babies sitting up securely while eating.
There are plenty of brands and styles of high chair and it is all up to you to choose which one is comfortable for your little one. Be sure to choose quality and durable ones like these Charlie Crane high chairs to ensure your baby's safety while using it. You could also opt for a booster seat if you prefer to use the regular dining chair you have for your little one.
Feeding Utensils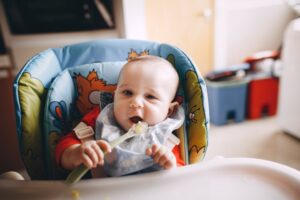 Next, you'll need to prepare several baby feeding utensils such as baby spoons, bowls, and dishes. Adult feeding utensils aren't meant to be used by babies since they are too big and not really safe to be used. Baby spoons are soft and flexible, making it easier for the baby to manage while eating. These spoons are also small to prevent choking. Baby bowls and dishes are non-breakable and could hold baby-sized serving portions.
Sippy Cup
When your baby is already eating solid food, he or she would also need to start drinking water. A sippy cup is a good start since it helps baby practice the art of drinking from a cup with lesser spills than a regular open cup.
Bibs and Splash Mat
Mess and spills are natural when your baby is still starting to eat. A bib is worn on your baby's chest to protect the clothes from food stains and mess. You could also make cleaning up after meals a lot easier by placing a splash mat on the floor.
Baby Food Processor
While it is convenient to just buy ready-made baby food, it is a great experience to make your own baby food for your little one. It could be time consuming to do it manually since it involves a lot of mashing and mixing to create soft baby food. A baby food processor can make this task faster and more convenient, making it a perfect must-have if you have a baby starting on solids.
Eating solid foods is an essential learning time for your little one. Prepare all the essential supplies to make this experience more enjoyable and convenient for both you and your baby.